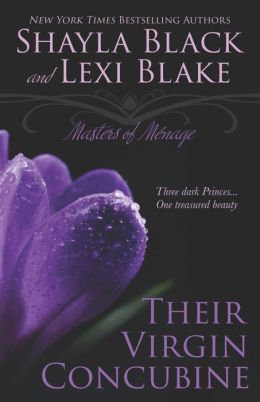 INSATIABLY SEDUCTIVE---ADVENTURE, MYSTERIOUSLY FANTASTIC, JOY-RIDE!! 20 STARS!
**WHO WOULDN'T LEAP INTO THE UNKNOWN w/3 RAVISHINGLY, FAMISHED ALPHA-MALES!**
Piper Glen, an ordinary, lonely klutz, who's a researcher for Black Oak Oil, is whisked off to an exotic foreign land, full of mystical intrigue, secrecy, and above all unadulterated passion with three of the most sought-after men on the planet.
Crown Prince's, of Bezakistan, Rafiq, Kadir, & Talib al Mussad, must secure their birthright, capture a concubine and seduce her for a complete month. By the end of that time period, hopefully she will be willing to marry all three of them. However, time is running out, six months to be exact, and Tal must choose quickly, for if he doesn't his evil/conspiring cousin Kahlil, will try to overturn parliament, and abolish what is considers a barbaric practice for acquiring a wife/queen.
Piper is this uncorrupt angel, a Diamond-in-the-Ruff, who the al Mussad men lustfully desired upon as no one else. She is their Pandora, who was bestowed upon them. Will Rafe, Kade, & Tal, convince Piper to stay and help rule their country? Or will the pressure of fulfilling a role she might not be ready for, drive a wedge between them all?

Also, there is deception and treachery at every turn, who can be trusted to protect royalty?
It possessed EVERY SINGLE ASPECT I ENJOY w/reading romance. For example, at times I felt as though I was reading historical with a multitude of sensual, gentle, amorous gratification that was in an abundance within the pages of this novel. The eroticism was beyond a doubt mind-blowing. It was also fascinating, with its seize-the-moment suspenseful action, that had me absolutely captured. My time is extremely precious for I'm constantly around my children; however, this book I couldn't move away from even if I wanted to!
I've been searching for a story-line like this for years, ever since I began writing reviews. I was told by good friends of mine, that when Ms. Black & Ms. Blake write together it is phenomenal, well they were right! IT WAS SPECTACULAR, I WAS BLOWN-AWAY!! I WOULD UNDOUBTEDLY RECOMMEND THIS NOVEL, 20 STARS & MORE!!
-------------------------------------------
Other Recommendations:
"
Colters' Woman (Colters' Legacy, #1)," by Maya Banks
"Brazen, " by Maya Banks
"Long Hard Ride, (Rough Riders, #1)," by Lorelei James
"Their One & Only," by Trista Ann Michaels
"Anything He Wants: Castaway #1-4," by Sara Fawkes