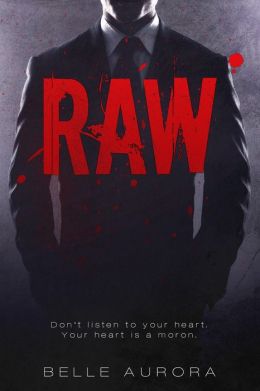 ***20 STARS & MORE! A MODERN DAY SHAKESPEAREAN/MOB TRAGEDY W/A SOMEWHAT BETTER ENDING!!***
**PERFECT TITLE FOR THE NOVEL—COULDN'T DESCRIBE IT ANY BETTER!**
We've ALL gone through the types of emotions that are portrayed within this novel. To LOVE someone with your WHOLE HEART, to the point where you've become BLINDED with the REALITY that's RIGHT-IN-FRONT of YOU—is just 1 of them!
Be forewarned you WILL definitely CRY, from it being either by JOY or PAIN, that's pretty much a GUARANTEE!!
It is ABSOLUTELY like NOTHING I've read thus far, it's told at an EXTREMELY fast pace. Ms. Aurora gave the readers both POV's (Point of View), without us waiting for the next installment to discover what truly occurs. The secondary characters were a MUCH needed component, there wasn't ANYTHING written that was frivolous to the storyline!
Nevertheless

, even though I've NEVER read anything like this before, it DEFINITELY possesses similar qualities to my MOST favorite novels.
E.L. James', "Fifty Shades of Grey Series;" Sylvia Day's, "Crossfire Series;" Sara Fawkes, "Anything He Wants & Castaway Series;" Mara Ryder's, "Scarlet Briar Series;" and finally, Bella Jewels, "The MC Sinners Series;" the 1 thing ALL of these authors have in common in my eyes, is that they've ALL set the BAR pretty HIGH! That's why so many authors are being compared to being the next success story.
Now with Ms. Aurora, EVERY other novel/author will be compared to her, and her writing. If it doesn't possess the EXACT same WOW factor as, "RAW," has than it's NOT worth reading!
Without-a-doubt, this novel possessed an ABUNDANCE amount of EVERLASTING LOVE, it's what I CRAVE, when searching for a book to read. It's DEFINITELY what I found with this tale, even though Twitch & Lexi were EXTREMELY vast people, it was hard NOT to fall MADLY in LOVE with them BOTH!
THANK YOU, Ms. Aurora; this story gave the reader a better understanding how HAPPY/CRUEL LIFE can TRULY be!
I would UNDOUBTEDLY recommend this book to ANYONE who LOVES to READ!
--
-------------------------------------------
"Fifty Shades of Grey;" "Fifty Shades Darker;" & "Fifty Shades Freed;" by: E.L. James
"Bared to You (A Crossfire Series, #1);" "Reflected in You (A Crossfire Series, #2);" & "Entwined With You (A Crossfire Series, #3);" by: Sylvia Day
"Anything He Wants & Castaway Series," by: Sara Fawkes
"Beautiful Trash (Scarlet Briar, #1);" "Hot Mess (Scarlet Briar, #2);" & "Bitchcraft (Scarlet Briar, #3);" by: Mara Ryder
"Fallen Too Far (Rosemary Beach Series, #1); "Never Too Far (Rosemary Beach Series, #2); "Twisted Perfection (Rosemary Beach Series, #3);" & "Forever Too Far (Rosemary Beach Series, #4);" by: Abbi Glines
"Sweet Persuasion (Sweets Series, #2);" by: Maya Banks
"Dreaming of You;" & "Worth Any Price;" by: Lisa Kleypas
"Seize Me (Breakneck Series, #1);" & "Withstanding Me (Breakneck Series, #2);" by: Crystal Spears