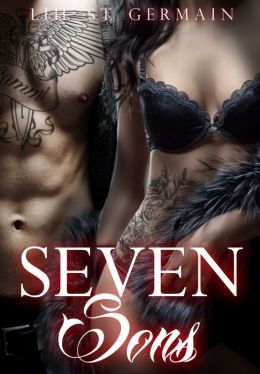 Links:
**Amazon.com:
http://www.amazon.com/Seven-Gypsy-Brothers-Saint-Germain-ebook/dp/B00HNRX3AM/ref=sr_1_1?s=digital-text&ie=UTF8&qid=1388953967&sr=1-1&keywords=seven+sons+lili+saint+germain
**B&N.com:
http://www.barnesandnoble.com/w/seven-sons-lili-saint-germain/1117786125?ean=2940045530910
**Apple.com:
https://itunes.apple.com/book/seven-sons/id786903762?mt=11&utm_content=buffer02979&utm_source=buffer&utm_medium=facebook&utm_campaign=Buffer
My Review:
**A MUST READ---THAT YOU WILL LITERALLY DEVOUR!!**
THIS BOOK IS ABSOLUTELY RAW & INTENSE! IT COMPLETELY BOGGLES MY MIND, HOW Lili Saint Germain, IS ABLE TO TELL THIS KIND OF STORY, WITH IT'S HIDDEN DEPTHS, KEEPING THE READING GLUED TO EACH WORD, IN JUST A MATTER OF 102 PAGES! I'M 3/4 OF THE WAY COMPLETE, & I CAN'T SEEM TO PUT IT DOWN FOR THE LIFE OF ME, EVEN AS MY CHILDREN ARE CAUSING A MUCK! WELL DONE DEFINITELY BEYOND A 5 STAR RATING!!
--------------------------------------------
Other Recommendations:
**"Seize Me, (Breakneck Series, #1)"; "Withstanding Me, (Breakneck Series, #2)," by Crystal Spears
**"Hell's Knights, (The MC Sinners Series, #1)"; "Heaven's Sinners, (The MC Sinners Series, #2)"; & "Knights' Sinners, (The MC Sinners Series, #3)," by Bella Jewel
**"Beautiful Trash, (Scarlet Briar Series, #1)"; "Hot Mess, (Scarlet Briar Series, #2)"; & "Bithcraft, (Scarlet Briar Series, #3)," by Mara Ryder