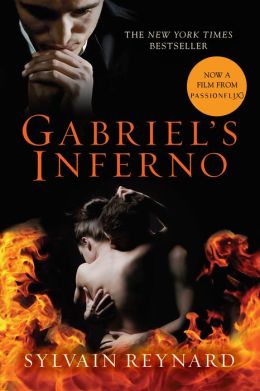 "STOP COMPARING ALL NOVELS TO 50 SHADES & TWILIGHT!! LET IT STAND ALONE!"
***This BEAUTIFUL MASTERPIECE Was An UNDENIABLE & MAGNIFICENTLY Written LOVE
Story!----Plain & Simple***
Once I began reading this fable in July of 2012, I was so enthralled with Gabriel & Julianne's compatibility for one another, so I automatically purchased, "Gabriel's Rapture." Yet, Gabriel's superior behavior towards
Julianne greatly displeased, nevertheless, I pushed that emotion to the back of my mind. However, it kept resurfacing, to the point I became undoubtedly infuriated with his character--if I were Julianne his face would be marked by all the slaps or punches I would've thrown in his direction. Therefore, I completely STOPPED reading the novel at close to 300 pages, half-way through!!
Eventually by the end of the summer, early September, I came across Sylvia Days, "Crossfire Series." Also novels compared to 50 shades, and gravely mistaken for that comparison.
Even though I deserted this novel, "Gabriel's Inferno," it still weighed on my mind. I found myself daydreaming about the occurrences which took place, and began regretting my decision to cease reading it. I guess I wasn't ready for the magnitude for my very own back-handed slap, I would eventually receive.
Six months had finally lapsed when I decided to revisit this storyline. Something I NEVER do with this much time, while my mind has severed all ties to a novel.
What a regretful MISAKE, one of which I immensely enjoyed discovering---might I add! I was BLOWN-AWAY! My WHOLE being was completely wrapped, consumed, and devoured---within the full-filled desires, encompassed passion, and long-awaited monumental moments with these two individuals! Literally there were tears streaming down my face--ABSOLUTELY BEAUTIFUL! This novel had so MUCH MORE than Romance, it possessed Mystery, Suspense, Action/Packed scenes that were JAW-DROPPING!!
WELL DONE MS. REYNARD, THERE'S NO QUESTION IN MY MIND---10 STARS!!
Other Recommendations:
*** "The Vincent Boys," by: Abbi Glines
*** "Fallen Too Far," by: Abbi Glines
*** "Seducing Cinderella," by: Gina L. Maxwell
*** "All Revved Up," by: Sylvia Day
*** "Bared to You, (A Crossfire Novel, #1)," by: Sylvia Day
*** "Reflected in You, (A Crossfire Novel, #2)," by: Sylvia Day
*** "Cowgirl Up & Ride, (Rough Riders Series, #3) by: Lorelei James
*** "Saddled & Spurred, (A Blacktop Cowboys Novel, #2) by: Lorelei James
*** "Tempt Me Tonight," by: Toni Blake
*** "Brazen," by: Maya Banks